Special Offer during March
Individual Constellations by donation – 2nd, 9th & 16th March
Group Workshop
Saturday 27 March – Online
---

Saturday 27 March
10am – 1pm UK
In the process of Family Constellations we represent members of our family or parts of ourselves. The representatives' experience provides information about blocks, entanglements and omissions in our family system. Secrets that have been buried in the family, people who have been excluded: all have their influence on subsequent generations and, as we begin to see what has been hidden or forgotten, so the process of healing can begin.
online
Click here for booking details
---
Special Offer
Individual Constellations by donation
March 2nd, 9th & 16th
An individual Constellation can be used to look at any life issue, whether it is affecting your health, work or relationships. Fears, blocks and repeating patterns all have their roots which can be revealed using the Constellations process. By coming into a different relationship with something we can recognise the healing potential inherent in every experience and step beyond our limitations.
These sessions are available by donation. I appreciate that income varies greatly in different locations and circumstances. Please contribute what you can to support my work.
To book your slot please email julie@simpleayurveda.co.uk listing the dates and time slots (morning/afternoon/evening) you are available.
---
Can you really do Family Constellations online?
Yes, you can! We are already working remotely when we ask someone in the group to represent a family member for us and it works perfectly well online.
Using Zoom as a platform we will be coming together in a small group for 3 hours and working with what is present in the moment. Unlike other zoom calls, we will often be standing up & moving around.
There will be the opportunity for two people to have their own personal Constellation. My experience shows that the Constellations serve and enrich the whole group with insights and not only the client.
---
Testimonials from  previous workshops
"A deeply moving experience that has certainly helped move 'stuff'. Well facilitated with huge sensitivity and care. Insightful thoughts and feelings continue after the event. Definitely feel a little lighter in relation to my past – Thank you."   Jacqueline ( online)
"I was pleasantly surprised and also very impressed at just how well constellations worked online, the process being shaped and guided so effectively by Julie."   Wendy (online)
I'm grateful for your amazing intuition, deep understanding of trauma and ability to create a safe space." Viviana (online)
"Great workshops to explore what is holding us back in life, and release ancestral trauma and energy. Julie is an amazing and loving facilitator." Dan (online)
"I just wanted to drop you a quick email to say thank you for the Constellations online workshop on Wednesday. I wasn't sure what to expect from the online experience, but it was as profound as the in person workshops I've attended. I'm so glad I took the chance to experience it. I am sitting with the shifts that are happening for me since and I know that it was a valuable step in my own journey." Allison (online)
"Thank you for facilitating this amazing experience, Julie. I'm sure it will take time to process it all but I immediately feel lighter somehow, as if a heavy burden has begun lifting." Miranda (online)
'The constellation work I had with Julie Ulbricht astonished me in its accuracy. It took me exactly to the ''pocket'' of childhood trauma that I needed to revisit in order to burst it open and break free from. Julie's expertise, combined with her gentle manner and deep intuition, creates the ideal environment for deep healing. The process with all its dynamics seems to be driven by an element of magic.''  Dana, Hertford
"Julie created a safe group space in which to truly be, connect, relax and regenerate and she has the knowledge, insight, strength and intuition to guide safely through whatever the space brings."  Claire, Surrey
"Working with Julie and Paul with Constellation Workshops has proven to be more real, powerful, grounded and more transformational than working with Ayahuasca"   D. Haigh
You are welcome to call me for a chat before booking:    07529 549589      
or email julie@simpleayurveda.co.uk
---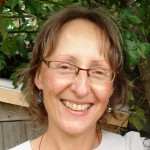 Julie Ulbricht
is an Ayurvedic Practitioner working in London & Sussex. She became interested in trauma and family systems as part of the underlying causes of ill health and began to explore methods to look at and address the root causes of disease. Julie trained as a Family Constellations Facilitator in 2015 and has regular supervision with Barbara Morgan. She has also studied with a number of other teachers including Stephan Hausner, Francesca Mason Boring and Ty Francis. More info
"The foundation and backbone of my practice is many years practice of meditation and bodywork. Why are these important? Because the ability to listen, sometimes to hear behind the words and to sense what the body is communicating, offer a way to connect at a deeper level."