Tuesday January 14th –  Family Constellations on Parenting – Brighton

 Open Evening Workshops starting 30th January  –  Brighton

 Saturday 29th February  –  Family Constellations  –  London

 Sunday March 8th –  Family Constellations  –  Brighton

---
Tuesday January 14th
Family Constellations on Parenting
Struggling with your kids? Feeling triggered?
Finding yourself back in the same place again, no matter what you try? Wanting to support your child, but feeling helpless?
Through the lens of Family Constellations, we can unveil the hidden dynamics that influence us and our children. Seeing the bigger picture allows us more choice and more understanding of our children's' behaviour; and the love that is already present can flow more easily between us.
Small group workshop for parents  –   10am – 2.30pm
Ditchling Road, Brighton
£37.50
click here  for information and booking
---
Thursday Evening Workshops
Brighton
A chance to experience Family Constellations for the first time or to come back for more…
30th Jan, 6th Feb and 13th Feb
click here for information and booking
---
Saturday February 29th
Family Constellations Workshop
Colet House, London
£75 / £60
 early bird price payable by February 1st
click here for information & booking
---
Sunday March 8th
Family Constellations Workshop
Evolution Arts, Brighton
click here for information and booking
---
Testimonials from  previous workshops
"Julie created a safe group space in which to truly be, connect, relax and regenerate and she has the knowledge, insight, strength and intuition to guide safely through whatever the space brings."  Claire, Surrey
"Working with Julie and Paul with Constellation Workshops has proven to be more real, powerful, grounded and more transformational than working with Ayahuasca"   D. Haigh
''The constellation work I had with Julie Ulbricht astonished me in its accuracy. It took me exactly to the ''pocket'' of childhood trauma that I needed to revisit in order to burst it open and break free from. Julie's expertise, combined with her gentle manner and deep intuition, creates the ideal environment for deep healing. The process with all its dynamics seems to be driven by an element of magic.'' Dana, Hertford
re Money Workshop: "It was a very transformative weekend and opportunities are already opening up, doors that were closed now appear to be flying OPEN!"   D. Haigh
---
You are welcome to call me for a chat before booking:    07529 549589      
or email julie@simpleayurveda.co.uk
---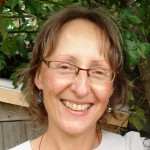 Julie Ulbricht
is an Ayurvedic Practitioner working in London & Sussex. She became interested in trauma and family systems as part of the underlying causes of ill health and began to explore methods to look at and address the root causes of disease. Julie trained as a Family Constellations Facilitator in 2015 and has regular supervision with Barbara Morgan. She has also studied with a number of other teachers including Stephan Hausner, Francesca Mason Boring and Ty Francis. More info
"The foundation and backbone of my practice is many years practice of meditation and bodywork. Why are these important? Because the ability to listen, sometimes to hear behind the words and to sense what the body is communicating, offer a way to connect at a deeper level."