Transform your life from within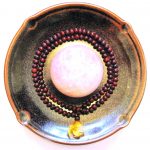 The Amnanda Process is a trauma-release therapy which uses the healing power of touch, together with herbal oils and mantra. It consists of a series of twelve treatments: In Amnanda the oil is the vehicle for transformational change and the treatments are just stages in a process which unfolds over the course of a year.   The oil removes crystalline structures from connective tissue at the cellular level. These crystalline structures are the accumulated results from traumatic experiences, which have been stored in the body and cause us to look and feel older. Amnanda rejuvenates the body, making you look and feel younger as it brings more harmony, energy and joy into your life. This clearing process will also tend to bring greater clarity about your direction in life.
The Amnanda process is derived from a traditional Ayurvedic therapy and has been adapted so that it can be given in the West by Swami Baba Ramdas. It is suitable for adults over the age of 21.
"When I had Amanda explained to me, I was intuitively drawn to the experience. I felt safe in Julie's hands to be taken through this journey.  It was a year of healing which brought me clarity and grounding. Thank you Julie for your safe and healing hands and heart." Kelly, London
"I managed to let go of so much of my fear. This has been the richest year I've ever experienced: a major shift. I can hardly express my gratitude." Hiroko, London.
"Just having that care in my life was amazing!"  Tom, Buckinghamshire
"The first thing to say is that it has really done what I hoped, which was to loosen the ingrained tensions that kept me bent over.  When I think about this, it seems remarkable, as these tensions have been with me for decades, at least since my teens and I have tried many things to try to release them. I am very glad you suggested Amnanda to me." Anne, Reigate
[table id=7 /]
Hammersmith, London
Cost: £70 (90 mins including follow-up consultation)Ditchling, Sussex
Cost: £65 (90 mins including follow-up consultation)
Click here to book an Amnanda Treatment with Julie
Amnanda Therapist Training is offered in the West of England,  Sussex and London : Click here for more information